Subterranean Press

The Farseer Trilogy (Assassin's Apprentice, Royal Assassin, and Assassin's Quest) Robin Hobb
Matching Limited Edition Set
SOLD OUT
Lettered Edition - PC
$895 $850.00
Dust jacket for each volume by John Howe.
Subterranean Press is pleased to announce a three volume set collecting Robiin Hobb's Farseer Trilogy, with each volume featuring wraparound cover art by John Howe.
Fantasy legend Robin Hobb's Farseer Trilogy introduced the world to her assassin hero FitzChivalry Farseer and his world of intrigue and adventure. In Assassin's Apprentice, Royal Assassin, and Assassin's Quest, young Fitz learns how to put the rare Skill magic in his blood to use alongside his assassin's training. An outcast mistreated by almost all in the kingdom, as he grows from a boy to a man he alone may be able to save the kingdom of the Six Duchies from barbaric outside threats.
Hobb's beloved series has received lavish praise from many. George R.R. Martin praised the Farseer trilogy as, "Fantasy as it ought to be written . . . Hobb's books are diamonds in a sea of zircons." Publishers Weekly calledAssassin's Apprentice "a gleaming debut in the crowded field of epic fantasies," and in a starred review Kirkusdeclared Assassin's Quest an "enthralling conclusion to this superb trilogy, displaying an exceptional combination of originality, magic, adventure, character, and drama."
Relive the exceptional stories through which the beloved and acclaimed Hobb launched a sprawling epic that would continue over more than a dozen volumes in these deluxe special editions.
Limited: 500 signed numbered sets, bound in cloth and sold out at the publisehr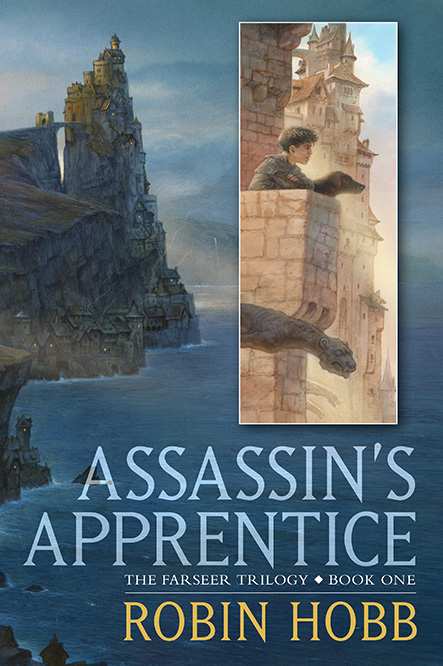 Lettered: limited to 26 copies housed in a unique traycase. (this is a large set and shipping will be actual costs)
PC- Publisher's Copy, are identical to the actual lettered copies and are extra copies for publisher use and marked "PC" in the line where the letter would normally appear.