PS Publishing

Exotic Gothic 5 Danel Olson (edited by)
| | |
| --- | --- |
| Trade Edition, Volume 1 and 2 | $90.00 |
| Slipcased Limited Edition | $100.00 |
VOL 1 - Cover art: Marcela Bolivar
VOL 2 - Front cover art: Apolinar Chuca
VOL 2 - Back cover art: Marcela Bolivar
VOL 2 - Interior art: (El Nahual) Berumen & Coyote
This year the Series has gone farther distances than ever before to find authors who evolve the Gothic genre. Authors born in eleven countries contribute new fiction (or fiction never published in English) to the fifth in the Exotic Gothic serie—twenty–six stories in all, split into two volumes.
A commitment was also made early to encourage gender balance in the anthology. After reading with shock how women writers are severely underrepresented in many genre anthologies the Editor asked, "Why are we cheating ourselves and our readers in this way? And how do we face our daughters if we perpetuate that unfairness?" Thirteen of the stories are written by women, and thirteen by men.
It is with great satisfaction that PS Publishing now presents what may be the most involving and affecting storytelling yet to appear in the entire Gothic Quintet . . .
CONTENTS - VOLUME 1
Danel Olson - Preface:
Deborah Biancotti - All the Lost Ones
Georges-Olivier Châteaureynaud - The Open Mirror
Simon Clark - L'Amour est Mort
Theodora Goss - Elena's Egg
Anna Taborska - The Girl in the Blue Coat
Nick Antosca - Burial Grounds
Nancy A. Collins - Moonrise on Hermit Beach
D. E. Cowen & Danel Olson - Goth Thing
Camille DeAngelis - The Coroner's Bride
Sheri Holman - The Starvation Experiment
Joyce Carol Oates - A Game of Draughts
Stephen Susco - Foodface
Gemini Wahhaj - The Girl Next Door
CONTENTS - VOLUME 2
Danel Olson - Preface
Terry Dowling - The Sleepover
Kola Boof - The Sweet Virgin Meat
Lily Herne - XYZ
John Llewellyn Probert - The Secondary Host
Berumen & Coyote - El Nahual
Carlos Hernandez - More Than Pigs and Rosaries Can Give
Thana Niveau - Xibalba
Anil Menon - Haveli
Charu Nivedita - Diabolically Yours
Deborah Noyes - Juicing the Knife
Reggie Oliver - He Who Beheld the Darkness
Paul Park - The Statue in the Garden
Lucy Taylor - Djinn's Blood
Trade Edition of Volume 1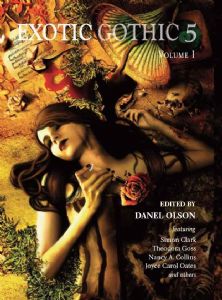 Trade Edition of Volume 2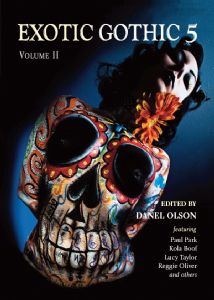 Slipcased Set Limited to 200 two-book sets numbered 1-200 (note: these are not signed)