Centipede Press

The Haunting of Hill House Shirley Jackston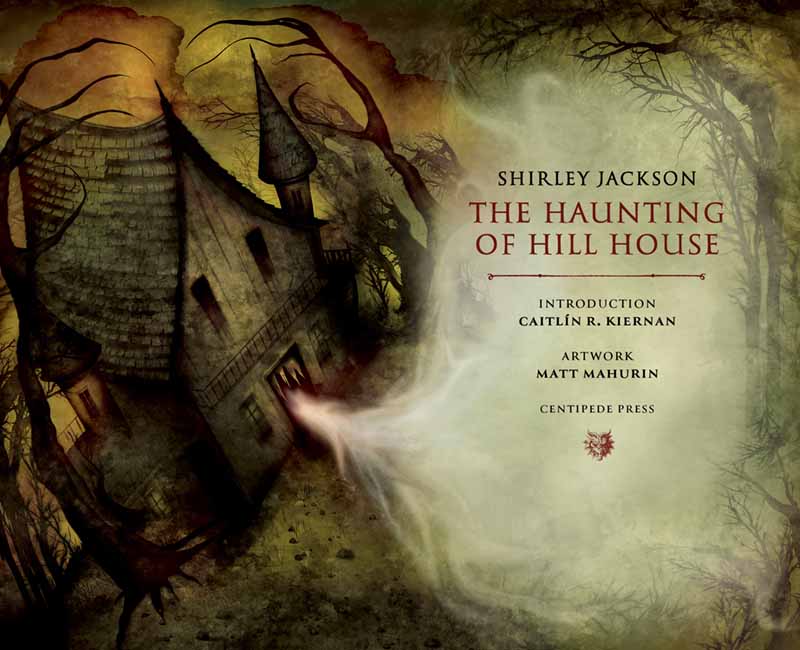 Hostile mail? To the letters column of The New Yorker? The June 26, 1948 issue of The New Yorker was noteworthy for the volume of hostile mail that it generated. Since the early 1940s anyone who was paying attention could hardly be unaware that Shirley Jackson was a gifted writer, but that she had the sort of transgressive power evinced in "The Lottery" may have been a dark surprise that caught many readers totally unprepared.
Eleven years later, Jackson would commit the sort of literary act of assault and battery that she was so, so good at. This time, she had an entire novel at her disposal for her brand of literary ferociousness. Viking Press published The Haunting of Hill House in 1959 and it was immediately hailed as one of the best novels of the year, and was a finalist for the National Book Award.
Over the years the novel's legacy has grown. Its influence has been huge on Caitlín R. Kiernan, Stephen King, Neil Gaiman (who called it the scariest novel he'd ever read) and Peter Straub, and it is now generally regarded as the greatest novel in the history of the horror genre.
The Haunting of Hill House is the story of four seekers who arrive at a notoriously unfriendly place called Hill House: Dr. Montague, an occult scholar looking for solid evidence of a "haunting"; Theodora, his lighthearted assistant; Eleanor, a friendless, fragile young woman well acquainted with poltergeists; and Luke, the future heir of Hill House. At first, their stay seems destined to be merely a spooky encounter with inexplicable phenomena. But Hill House is gathering its powers — and soon it will choose one of them to make its own.

The Centipde Press edition of Shirley Jackson's The Haunting of Hill House isan oversize (7¾ × 12¾ inches) edition with the following features:
Six color interiors, endpapers, dustjacket, and numerous black & white spot illustrations by Matt Mahurin. New introduction by Caitlín R. Kiernan. Excerpt from Danse Macabre by Stephen King. Bonus essay, "Experience and Fiction", by Shirley Jackson. New afterword by Laurence Hyman, Shirley Jackson's son, talking about the novel and growing up in the Jackson household. A selection of drawings of the Hill House houseplans by Shirley Jackson. Printed endpapers, cloth slipcase, top-edge stain and ribbon marker, hand-tipped illustrations, heavy paper, and other extras. Each copy is signed by Caitlín R. Kiernan and Matt Mahurin.
Particulars:
Limited to 250 copies, each signed by Matt Mahurin and Caitlín R. Kiernan.
Oversize at 7¾ × 12¾ inches.
Two- and four-color printing throughout on 125gsm Canaletto paper.
New introduction by Caitlín R. Kiernan.
Full color wraparound dustjacket by Matt Mahurin.
Six original color interiors by Matt Mahurin, each hand-tipped.
Ten black & white spot illustrations by Matt Mahurin.
Full Dutch cloth with three-color stamping on spine and blind stamp on front board.
Printed endpapers.
Top-edge stain.
Letterpress signature page.
Ribbon marker, head and tail bands.
Essay by Stephen King (excerpted from Danse Macabre).
Essay "Experience and Fiction" by Shirley Jackson.
Afterword by Laurence Hyman, Shirley Jackson's son.
A suite of drawings of Hill House by Shirley Jackson.
Two-color German cloth slipcase, stamped on spine, lined with special paper.
Lenticular image on front of slipcase.
Mylar dustjacket protector, 1.5mil, already applied!
256 pages.
Published January 2020.
ISBN 978-1-61347-254-5.