Centipede Press

The Doll Who Ate His Mother AND The Parasite Ramsey Campbell
This is for a matching #'d set of both The Doll Who Ate His Mother and The Parasite
The Doll Who Ate His Mother
Rock music gave America its British Invasion in the 1960s, starting with the Liverpool band The Beatles along with the Rolling Stones, the Who and many others. A second British Invasion came in the horror genre a decade later with novels by Dennis Wheatley and John Blackburn and a wealth of short story collections by Charles Birkin. Included in this flood of quality horror fiction a collection by Ramsey Campbell might well have been overlooked, but with his first novel, The Doll Who Ate His Mother, the real British Invasion had begun, and the works of previous authors were merely opening salvos. This was the realinvasion.
The Doll Who Ate His Mother was a remarkable debut novel, nominated for the 1977 World Fantasy Award.
After a strange man steps in front of Clare Frayn's car on a wild, rainy night causing her to lose control of the vehicle with the resulting accident claiming her brother's life. Clare begins an investigation to try and learn the identity of the man and why he appeared to be carrying a human arm…
Over the course of the novel Clare winds up recruiting the assistance of a sleazy true-crime writer, who seems to know a great deal about the man she is looking for; a gentleman named Chris Barrow, who, while seemingly charming and helpful, may be driven by less-than-pure motives; and finally George Pugh, the owner/operator of a quaint old movie theater, who appears to be completely altruistic in his desire to help Clare.
One or more of these men is not what he seems and there is a real horror at work here that Clare has yet to glimpse the surface of. The closer she gets to finding out why her brother really died, the closer she gets to risking her own doom…
Ramsey Campbell's debut novel builds slowly in a deliberately paced chilling manner to a major twist dropped in two-thirds of the way through and finally to a climax that is totally unexpected.
The edition measures 7 × 10 inches. There is a new introduction by Peter Crowther, afterword by Ramsey Campbell, and a reprint of Stephen King's review of the book from Whispersback in 1976. Color reproductions of old editions are included in the introduction. The book has a top edge stain, ribbon marker, and a very handsome signature pages. The edition is signed by signed by Ramsey Campbell, Peter Crowther, and cover artist David Whitlam.
Edition Specifications
Introduction by Peter Crowther.
Afterword by Ramsey Campbell.
Review of the book by Stephen King.
Beautifully typeset with a lot of extras.
Ribbon marker, head and tail bands.
Limited to 150 signed copies.
Sold out at the publisher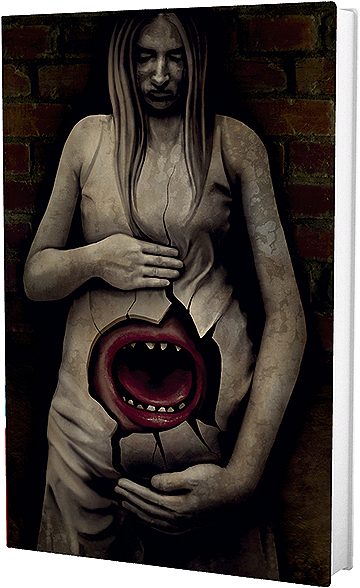 The Parasite
The Parasite launched a decade that would see Ramsey Campbell nominated for or win no less than fifteen major awards for fiction, firmly establishing himself as Britain's greatest living horror author. Following the success of The Doll Who Ate His Mother, The Parasite is a tour de force called by Stephen King "one of the scariest, most important novels of horror and the occult." Peter Straub commented that "The Parasite makes death itself look sweet because of the ghastly things which can happen this side of death."
Winner of the August Derleth Award under its original title of To Wake the Dead, and nominee for a Balrog Award, this deeply unsettling novel has been issued in hardcover on both sides of the Atlantic, yet oddly enough has never been accorded the deluxe presentation it so richly deserves…until now…
We are proud to present the definitive edition of Ramsey Campbell's classic work. Featuring the author's preferred text and with an introduction by Reggie Oliver and cover artwork by Piotr Jablonski, this sumptuous edition of The Parasite is a cornerstone volume for any serious collection of modern horror. Designed as a matching companion volume to our edition of The Doll Who Ate His Mother, orders of both will receive matching numbers.
The Parasite picks up where the dark vision of H.P. Lovecraft leaves off. The other children flee the attic leaving ten-year old Rose alone with an unspeakable thing a thing which violates her horribly. So traumatic was the experience that Rose manages to expunge it from her conscious memory. Twenty years pass with only a vague sense of incompleteness to hint at the true horror residing deep within her. A sudden shock begins the release of Rose's latent psychic powers, but with this release, something else is awakened, a parasite, and with its awakening, the true horror begins…
The edition measures 7 × 10 inches. Color reproductions of old editions are included in the introduction. The book has an afterword by Ramsey Campbell and the original epiologue from To Wake the Dead. It is printed in two colors throughout on heavy, 70lb paper. It has a top edge stain, ribbon marker, and a very handsome signature pages. The edition is signed by signed by Ramsey Campbell, Reggie Oliver, and Piotr Jablonski.
Edition Specifications
Introduction by Reggie Oliver.
Afterword by Ramsey Campbell.
Beautifully typeset with a lot of extras.
Ribbon marker, head and tail bands.
Limited to 150 signed copies.
sold out at the publisher