Centipede Press

The Book of Skulls Robert Silverbert
| | |
| --- | --- |
| Limited Edition #220 as described | $100.00 |
| Limited Edition #225 as described | $100.00 |
| Limited Edition | $150.00 |
SYNOPSIS
Published in 1972, Robert Silverberg's The Book of Skulls confounded reviewers and science fiction fans with its then-present day road-trip setting, seemingly non-science fiction elements, and experimental narrative encompassing four different points of view. To sum it up, however, we might best leave it to Mr Silverberg himself, who states:
"Here we have a novel that takes place in the early 1970s, in the United States — present time, at the time I wrote the book. There are four narrators, who take turns telling the story. (At that phase in my career I was interested in setting experiments in narrative technique for myself, and this was one of them, one of the most difficult, requiring me to tell each of the alternating chapters in a different tone of voice.) The four are American college boys off on an Easter vacation. There's nothing at all science-fictional about that; but there is nothing at all science-fictional about the first hour of King Kong, either, and certainlyKing Kong turns science-fictional when the first pterodactyl goes fluttering by overhead and stays that way through its apocalyptic finale atop the Empire State Building.
Eventually the four boys of The Book of Skulls get to Arizona, where they have gone in search of the secret of eternal life; and since immortality is surely one of the classic themes of science fiction, and I have stated right there in the second paragraph of the book that the secret of immortality is what they're seeking, perhaps that alone is enough to qualify the book as science fiction. Surely the quest for immortality is science-fictional to the core, whether or not the seeker actually finds it. (By that definition, I should point out, the 4,500-year-old Sumerian legend of Gilgamesh is science fiction. But is it? This business of definition is a troublesome thing.)"
This new edition of The Book of Skulls features a new introduction by Malcolm Edwards, an afterword by Robert Silverberg, a gallery of covers of previous editions of the book, and new cover and endpaper artwork by John Anthony di Giovanni. In addition, the book's frontispiece is a reprint of Jim Burns's cover for the 1980s Bantam paperback, here reproduced in gorgeous full color, with no obscuring title or author information.

Limited to 300 signed & numbered copies.
Signed by Robert Silverberg, John Anthony di Giovanni, Jim Burns, and Malcolm Edwards.
Introduction by Malcolm Edwards.
Afterword by Robert Silverberg.
Several reproductions of covers of older editions of the book.
Fully cloth bound, gorgeous dustjacket, ribbon marker, head and tail bands.
Published March 2019.
ISBN 978-1-61347-225-5.
Book size 6¼ × 10 inches.
Number of pages: 248.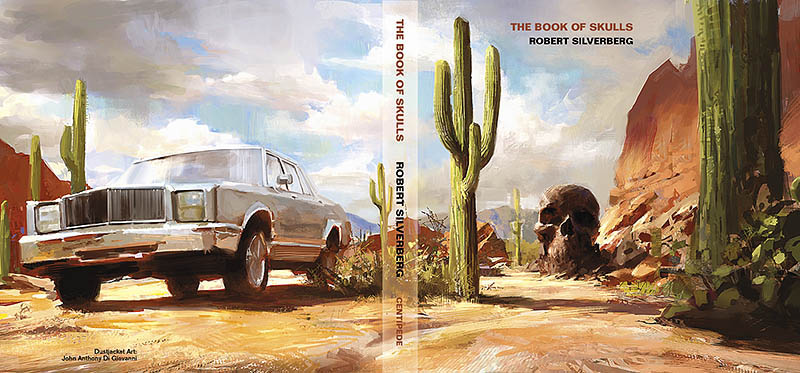 NOW, after going through our allotment, we ended up with two slightly damaged copies. Each have a tear in the endpaper attached to the rear board as pictured below, both spots are covered by the extention of the mylar jacket placed on the jackets to protect them. BOTH OF THESE COPIES ARE PART OF THE SIGNED EDITION.
#220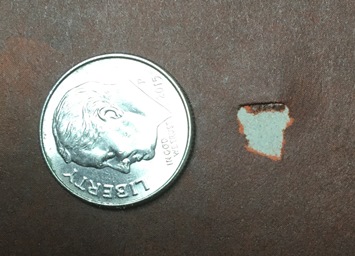 #225