Cemetery Dance

Night Shapes William F. Nolan
| | |
| --- | --- |
| Advanced Uncorrected Proof - Bill's Stuff | $200.00 |
Published in 1995
In the pages of Night Shapes, containing William F. Nolan's best short fiction written over the past decade, you will encounter a ghost, a giant, a vampire, a werewolf, a zombie, a demon, a witch, a strangler, some maggots (very large), a soul-eating ghoul, an alien "feeder," three talking cats, a plant-mutant, a group of folksy cannibals, and Jack the Ripper.
Here is top-level entertainment from a master writer working at the peak of his powers. Twice winner of the Edgar Allan Poe Special Award, William F. Nolan is the author/creator of the international bestseller Logan's Run (MGM film, CBS television series, audiocassette, etc.). In addition to his 60 books and more than 220 anthology appearances, his work has been printed in 600 issues of 240 periodicals around the world. He has also written extensively for films and television (having worked on 25 "Movies of the Week") and is the editor of Urban Horrors and the author of How to Write Horror Fiction. With his wife, writer Cameron Nolan, he lives in the San Fernando Valley of Southern California. His current ongoing project is a series of "Black Mask Boys" (Dashiell Hammett, Raymond Chandler, Erle Stanley Gardner) mystery thrillers for St. Martin's Press.
Night Shapes features more than two-dozen short stories, brand new Story Notes from the author, an Introduction by Peter Straub, an Afterword by Robert Bloch, and full-color dustjacket artwork by Alan Clark. Protected inside a handmade cloth slipcase. Signed by both William Nolan and Peter Straub!
Advanced Uncorrected Proof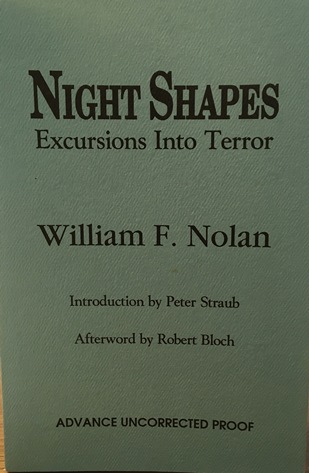 This is one of an undetermined number of proofs containing the Teleplay The Night Killers written with Richard Matheson. This is a nice asssociation piece signed to Bill Schafer, publisher and a principal of Subterranean Press. The inscription notes the fact that this was the only printing "thus far" of the teleplay. Includes a drawing by Nolan.