IMPORTANT - PLEASE READ!! Updated 16 September 7:00 pm * *
| | | |
| --- | --- | --- |
| Click Here for Hurricane Irma Update as it relates to Camelot | | SOLD OUT |
September 16 at 7:00 pm
WE HAVE POWER!!!!
Now to all the cleanup - tomorrow (Sunday) will be spent putting things back to right and laundry....lots and lots of laundry. Monday will be spent grocery shopping to replace the stuff we had to throw away from the refrigerator (it is totally empty), but needs all day tomorrow to get cold again. Tuesday means I'll be back at the shop full steam and packing, so be ready!!!
September 16 at 9:00 am
Day 6 and still no power at home - Pasco County was projected on the Duke Energy website as having it back at midnight last night (Saturday morning), but that projection has now been moved to midnight tonight (Sunday morning)....I'll let you know what happens, but I can tell you I'm really getting tired of this "camping" thing!
Tony stayed home with the animals today so that I could come in and at least get caught up on e-mails (I know he has been responding to you all, but now it's my turn to fill in the details). I can't thank you all enough for your patience during all this!
Kim
September 15 at 9:40 am
No changes! The scary thing is, we are starting to get used to it! Now that we know we can get gas, the generator say on most of the time, so we have running water (ice cold showers), some lights, fans etc. and hot coffee in the morning to eat with our cold pop-tarts....SAD state of affairs, but it could be worse! I"m still answering e-mails as best I can , and again, the orders coming through are appreciated, we are just sorry nothing is going to ship until next week.
Tony
September 14 at 12:30 pm
Still no power at home, the boys have gone back to school, Alexander in Gainsville has power, Avery who lives close to USF still does not have power. Kim did not want to leave the animals alone, so she is at home with the generator going (now that gas is no longer an issue) so she can run fans for the mammals, the reptiles seem to be doing fine, armed with a shotgun, just in case of looters (yea that is a real thing around here) and she asked me to thank everyone for their kind words and let everyone know that she may not be getting back to anyone until next week. Orders are still coming through, thank you, and I am responding as best I can, but remember, Kim dosn't let me do anything important like handle customers or their books, so I am just doing the best I can.
Tony
Just a sample of what we are dealing with, four downed trees in one area, and we were lucky!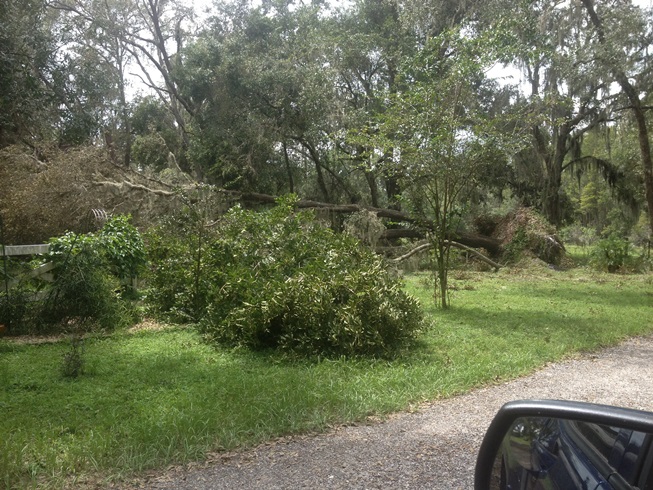 September 13 at 10:30 am
Still no power at home, have to deal with one dog, five cats, four dozen or so reptiles, and a grandmother and aunt who are pushing 80, so we are in and out of the of the office, trying to get everything we moved, "just in case," back where it goes so we can try to get some work done, since there have only been two 1st class envelopes delivered to the building (and those went to the law office) over the last four days, and the post office down the street has no power, we are not sure what is going on with the post office, UPS or FedEx, so we are not "shipping" but will process those books that have come in that are going into customers "hold boxes," this is opposite how we normally do it, but we figure is the best course of action. Duke Energy is saying our county should have power by midnight Friday, we are keeping our finger's crossed.
We also want to thank all of you that reached out to us to see how we have been doing, your kind words are helping us as we deal with this event, we were lucky, the eye was tracked to go right over us up until it hit Naples, a few hours before it was to reach us, then it went north instead of hugging the cost, missing us by about 30 miles, our hearts go out to all those in Naples and Key West, it will take months for their lives to get back to some assemblance of normal, and we know all to well, that that could have been us!
Tony and Kim
September 11 at 3 pm
We are alive - bookstore survived, but we have no power at our home, so honestly have no idea when we will start resuming normal operations at the store this week....will keep you updated as we know more
Tony and Kim
FYI,
We are told that we may be losing electricity tomorrow, before the storm, we are definitely losing it after the storm and from past experience expect it to be out the better part of a week. The bookstore has 16" walls (an old phone company switching station) so we are not really concerned with that, but life will be kinda primative for awhile, so if you e-mail us and don't get an answer, don't worry, not our first rodeo and we'll get back to you as soon as we can.
Tony and Kim
Hurricane Irma Update as it relates to Camelot
Hello Everyone:
Just want to let you know that with this latest update, it appears that Hurricane Irma is going up the middle of Florida which puts us in the potential of losing power. With that being said, if you order/e-mail/make a PayPal payment and we don't respond, please do not worry, it may just mean we have no power and don't have the ability to check e-mails, or the website, to see what is going on.
If the power does goes out, I'll try to update here before shutting everything down.
Kim and Tony