Borderlands Press
Gauntlet

The Nocturnia Series: Definitely Not Kansas, Book 1 - Family Secrets, Book 2 - The Silent Ones, Book 3 F. Paul Wilson - Tom Monteleone
| | |
| --- | --- |
| Matching #'d Set of All 3 Books | $120.00 |
| Matching #'d Set of Books 2 and 3 Only | $80.00 |
Definitely Not Kansas: Book One of the Nocturnia Series
Book One of the Nocturnia Series: Definitely Not Kansas is a signed limited edition of the new YA novel by F. Paul Wilson and Tom Monteleone.
Gauntlet and Borderlands Press are collaberatin in publishing this and hope to have the book available for the upcoming 2013 holidays.
Here is a description of book one of this trilogy::
Welcome to Nocturnia, where the monsters have their own nation states and humans are either slaves, or food, or both. Where even the flowers will suck your blood if you venture near. As Emma and Ryan search for a way home, they come to suspect they did not arrive in Nocturnia by accident. But if not, why are they here? Are their destinies somehow entwined with this nightmare world?
Family Secrets: Book Two of the Nocturnia Series
The second volume of this Young Adult series by F. Paul Wilson and Tom Monteleone continues story of Ryan and Emma, trapped in a parallel universe called Nocturnia.
In their search for their missing older brother, they are helped by a variety of displaced humans and monsters ranging from Ambrose Bierce to vegetarian werewolves. During their attempts to escape from the fierce renegade ruler, Falzon, Ryan and Emma embark on an odyssey of adventure and revelation of not only a strange nightmare world . . . but also about themselves.
Limited to 350 signed copies and this is for both books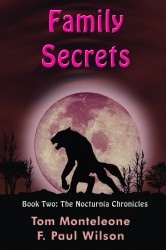 The Silent Ones: Book Three of the Nocturnia Series
The Silent Ones is the third and final book the of F. Paul Wilson and Tom Monteleone's Young Adult series.
The Nocturnia Chronicles continues the adventures of Emma and Ryan as they locate their older brother, Telly, in the parallel world that threatens to overwhelm our world, the one the monsters call "Humania." By using Telly's unique talents, Ryan and Emma attempt to stop the rampaging Raksasha leader of the Nocturnian armies from destroying the parallel world of Earth.
Limited to 500 signed and numbered copies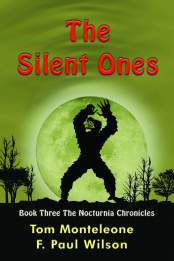 Matching #'d Set of all 3 book
Matching #;d Set of Book 2 and Book 3 only